Environment Agency Fisheries Enforcement Officers in the North East checked almost 400 rod licences during spring bank holiday patrols.
The blitz to check anglers were fishing legally saw bailiffs net 14 people for offences on rivers and stillwaters over the weekend. A total of 14 anglers out of 389 checked were found to be in breach of rod licence and close season legislation and were reported for it.
Environment Agency Fisheries Enforcement Officers visited 80 waters across the North East from the Borders in the north down to North Yorkshire in the south.
It brings the total number of first time rod licence checks to 650 during May, with 37 offence reports issued. Kevin Summerson, Environment Agency Fisheries Technical Specialist, said: Our officers were out in force this weekend….....
For more info on this story click HERE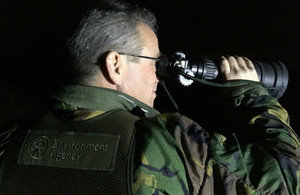 Posted on 31st May 2018 16:43:38 by FishingAdviser