Environment Agency enforcement officers will be patrolling waters throughout England this Bank Holiday weekend as part of a blitz on illegal fishing.The officers will work with the police and Angling Trust Voluntary Bailiffs to make sure anyone fishing is obeying the law including fishing in waters that are open to anglers, using the right tackle and equipment, and having a valid fishing licence.
Bank Holiday weekends are a great opportunity for families to get out and do some fishing on our waterways and the Environment Agency is keen to ensure everyone is enjoying themselves and doing the right thing.
Kevin Austin, Deputy Director Agriculture, Fisheries and the Natural Environment, Environment Agency said:
The Environment Agency conducts enforcement operations throughout the year to protect fish stocks and improve fisheries.Our enforcement officers, Angling Trust Voluntary Bailiffs and police are out there to make sure everyone is fishing legally this weekend.
Our work is intelligence-led, meaningAnyone caught can expect to face prosecution.
For more on this story visit the full article HERE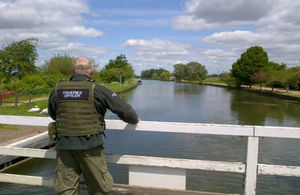 Posted on 4th May 2018 15:56:20 by FishingAdviser